Red Tower gets a new roof!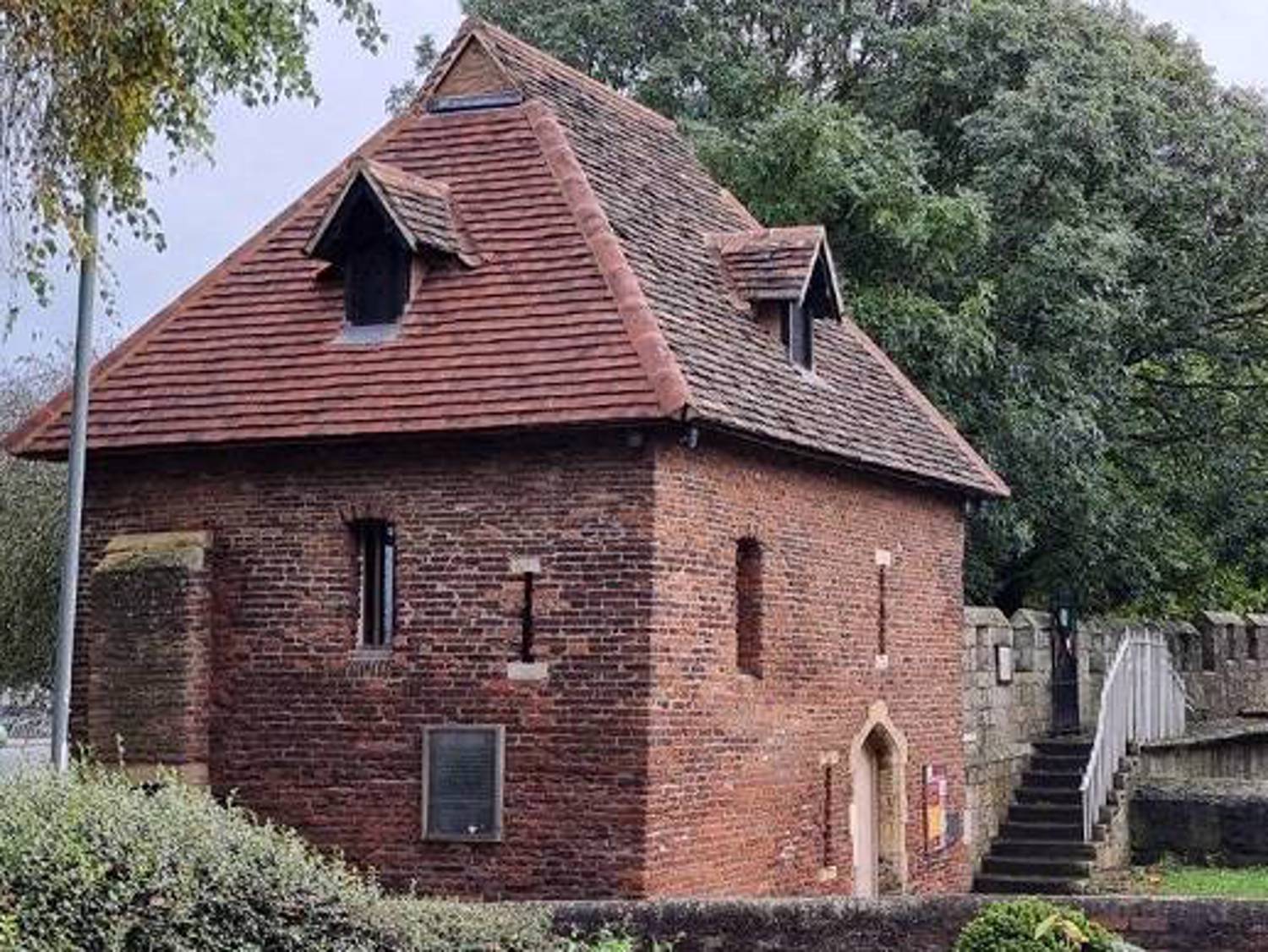 In May 2023 our stonemasons began the task of re-roofing The Red Tower, which stands at the northern end of the Layerthorpe­–Walmgate stretch of the city defences on Foss Islands Road.
Built in 1490, after Henry VII ordered the strengthening of the city defences, the tower is unique in York because it was made of red brick rather than limestone and has been known ever since as the Red Tower. Building in brick was a relatively new thing in York and caused tension between the masons and the tilers, or brick layers, who complained that their tools had been broken or stolen, 'which dede was thought to be doon by the masons for dispute'. When tiler John Partrik was murdered, two masons were suspected but were later acquitted. Thankfully, relations between tilers and masons are more cordial these days!
The medieval tower provided a defensive vantage point with arrow slits and gun ports overlooking a large body of water, known as the King's Fishpool, created when William the Conqueror dammed the River Foss, flooding acres of land to the east of the city to feed the moat of the newly-built castle further downstream. The Fishpool has long since gone, lost to post-medieval land reclamation and the 18th century canalisation of the River Foss, but this building stands as reminder of this important chapter in the defence of the city.
The building has a long and interesting history and has been put to many uses over the years, most recently for the activities of the Red Tower Community Interest Company, who provide a weekly food bank as well as various community arts and social events.
The works have been carried out by the City of York Council Ancient Monuments team, using their extensive skills and experience of working with historic buildings and materials in accordance with best conservation practices and guided by the conservation management plan for the city walls. Through our work we aim to bring, as far as possible, the previously under-used and under-appreciated spaces within York's walls into use for public benefit.
All the existing 18th and 19th century roof tiles had to be removed, many of them in need of replacement, so that the internal roof space could be properly insulated. Repairs were made to the roof trusses and dormers after which the roof was re-laid with the original tiles as well as hand-made replacements made by Keymer Tiles.
The improved insulation in the upstairs meeting room, which can be hired from the Red Tower CIC for events and meetings, will ensure this space can be used all year round. The Red Tower can continue to provide for our communities for many years to come.
A summary of later repairs and alterations:
-Repaired 1541 and 1545
-Probable flat lead roof, as shown in Speed's map of 1610 with embattled parapet
-Flat roof replaced with a tiled hipped roof after 1700
-Depicted by 1776 by Edward Abbot as in a ruinous condition
-Patched up by 1825 when sketched by George Nicholson
-Pumphrey 1853 photograph shows signs of rebuilding
-1857­­–8 'restoration' (essentially rebuilt) to designs by G. Fowler-Jones
-1970s roof repairs
-2015 interior works to create kitchen for community group and meeting room upstairs
-2023 completely re-roofed by CYC masons using hand-made tiles (Keymer Tiles, Hull) to match existing, open roof space insulated and insulation material covered in hessian for a more attractive appearance internally